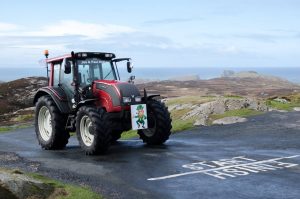 In 2018, Specialist Joinery Group Maghera celebrates 30 years in business. To celebrate the Specialist Joinery Team team have embarked upon a unique challenge. We aim to raise £100,000 for 10 charitable causes by the end of 2018. The charities chosen hold special significance to our team, as many of our Specialists families have been assisted by the work of these wonderful organisations over the years.
Following on from the success of our fantastic Specialist Winter Wonderland in December which raised over £20,000 for our charities we are now organising a 30 mile Charity Tractor-thon. (30 miles to celebrate 30 years)
The event will take place on Saturday the 10th of March 2018 and will begin at 9am on the grounds of Specialist HQ with the run beginning at 1pm. In between times we hope to have a charity raffle, various prizes for the tractors in attendance, a torque tester and a photographer on site to capture pictures of the day.
The 30 mile run will set off from Maghera, head through Tobermore, Draperstown, Desertmartin and Magherafelt, then back to specialist HQ through Castledawson Bellaghy and Gulladuff.
All are welcome to what's sure to be a fun filled day for all the family. Admission Prices TBC
Keep an eye on the Specialist Joinery Group social media and web pages for updates surrounding the event and competitions.
www.sjg.co.uk
The charities & worthy causes chosen to benefit from our fundraising activities are; Steps, Alzheimer's,  Our Lady of Lourdes Pilgrimage, Chest Heart & Stroke, Cystic Fibrosis, Marie Curie, Children's Cancer Unit, NI Children's Hospice, Kings College Hospital, London and Sands.